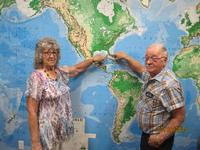 Big Lake Missions Outreach, Okeechobee FL
Bruce & Mary Ann Swinford started Big Lake Missions Outreach in 1995 to help the homeless in our community in any way they could. They are now reaching out to over 15,000 (documented) homeless & needy each year.
They are a non-profit organization, licensed and chartered with the Association of International Gospel Assemblies (A.I.G.A.).
Services provided:
Hot home-made meals five day a week
Referrals
Food Pantry
Small household items
Clothes closets
Personal hygiene items
Help victims with burned out homes
Bibles (English & Spanish)
Thanksgiving baskets & meals
Christmas baskets
Annual Toy Give-a-way; since December 1995
Winter blankets, jackets & sweaters
School supplies
Contact infomation: Call (863)763-5725
Donations may be sent to:
Big Lake Missions Outreach
PO Box 1663
Okeechobee, FL 34973-1663